Does your home feel boring? Do you have a room that just needs to be updated?
Let us help you with your DIY Paint Projects. The Helm Paint Team knows paint. We have been painting New Orleans homes for over 50 years. Whether you want to paint one room or your whole house, we can help you select the perfect paint and supplies to get the job done right. Do you have a free weekend? Check out some of our DIY Paint Projects you can do over a single weekend below:
If you have questions about your DIY Paint Projects, don't fret, call the Helm Paint & Decorating Team or just stop by one of our locations. We enjoy working with our customers on their projects. Plus, we also offer FREE delivery. Find out more now.
Paint Dated Furniture
Do you have a piece of furniture that is scuffed or is in a finish or color that you simply do not like anymore? Paint it! These are the perfect DIY Paint Projects for the weekend. A fresh coat of paint really can reinvent an old piece of furniture and make it into a beautiful, new accent. The key to re-designing an old piece of furniture, is adding a little bit of color. For example, consider painting the interior of an armoire in Benjamin Moore Meridian Blue. If you have boring bookshelves, paint the inside back or interior shelves in Benjamin Moore Rapture (A Rich Red Color Hue). Whatever color you choose, incorporate the same color into accent pieces around the room such as vases, throw pillows, and even picture frames. (You can paint picture frames with the same Benjamin Moore Color for a perfect match).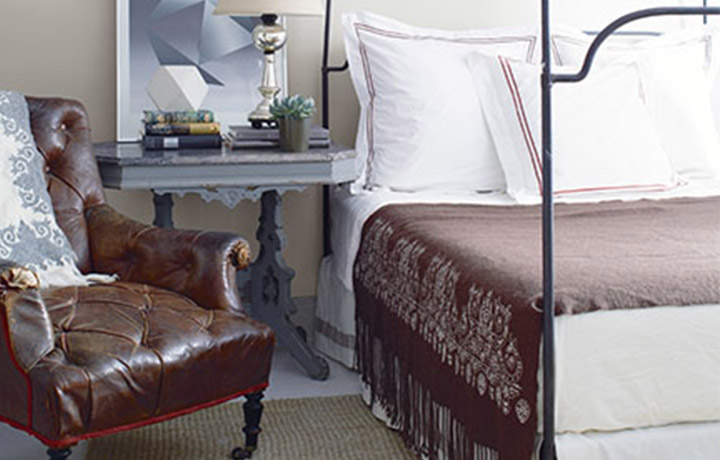 Stenciled Accent Wall
An accent wall has always been a wonderful design element for homes. They are actually not that hard to do. If you are ready to change a room and add some dimension to it, consider using a wall stencil. A wall stencil DIY paint project gives you control to choose your favorite design and simply paint using the stencil as a guide. To compliment your accent wall, consider incorporating the accent wall color or pattern in accent pillows and area rugs.
Ceiling Paint
Do not be afraid of painting your ceiling a color other than white. White is great and can open a room, but if you want to be a little unexpected, consider a different paint color. Do you have a small bathroom? Small bathrooms are perfect for DIY Paint Projects. If this is out of your comfort zone, but you still want a change, consider using Benjamin Moore Lily White or Navajo White. If you are more adventurous and want a dark color, check out Benjamin Moore Buffett Green or Grape Gum. As you consider the different color options, don't forget to also try to incorporate that same color in the accents in the bathroom such as pictures, mirrors, soap holders and even to the flowers in the vase.
Chalk Paint
What makes the One Step Furniture paint great….No Stripping, No Priming and No Sanding. With this said, pick a small item like a picture frame and just give it a try. Once you have seen how easy it is to use, you may decide to paint your kitchen cabinets. Amy Howard At Home® One Step Paint™ is a water-based paint that adheres to most any surface which makes it the perfect paint for DIY Paint Projects. Apply paint directly to old wood finishes, concrete, iron, stone, formica, etc. It dries flat and creates that chalky finish that we covet on antique pieces found at the Paris Flea Market or our favorite boutique antique shops.
The Front Door
One of the most important doors in the home, is the front door. The entrance to your home is definitely an important element of its curb appeal. Let's update your front door color. One of our favorite brands for painting a front door is Aura Grand Entrance paint by Benjamin Moore. Choose any color or customize your own…Go Bold with Red or even consider a beautiful Grey. But, if that is not enough, check out Fine Paints of Europe. They are important from Holland. These paints are recognized by consumers as being of superior value because of the longevity of the paint to beautify and protect their homes. They are famous for their glossy finish.
Helm Paint & Decorating, locally owned and operated, has been in business since 1970 and is an independent dealer of Benjamin Moore Paints and Finishes. Our trained specialists are available to assist you in selecting paint and supplies for your business. We also offer FREE 2 hour Pro Delivery Service. 
We have 6 locations across the Metro New Orleans area, for your convenience, to serve you.