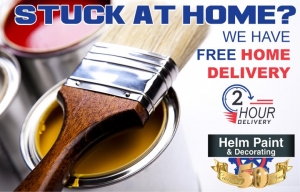 Being stuck at home does not have to be a bad thing. Think of it as an opportunity. You could binge watch Netflix or catch up on sleep, or you could actually get something accomplished. So, Let's Paint!
Do you have a room in your home that could use new paint? Do you have a deck or a porch that could use a little TLC? Could your garage flooring use a new finish?  If you said yes to any of these, it's time to stop in or order paint from Helm Paint & Decorating.
FREE 2 Hour Delivery
We provide quality paint, paint supplies, and equipment for residential jobs, commercial jobs and interior designers – and everyone stuck at home.  No matter where you are in the greater New Orleans area and Northshore, our 2 hour delivery service is here for you. We guarantee whatever you need from our store, from paint to paint supplies, we will get to you within two hours or less. There is no need for you to stop into the store if you do not want to, because we can deliver it to your home or business.
The 2 hour delivery service is available in the New Orleans metro area for all orders placed between 7 a.m. and 2:30 p.m. Monday through Friday. Best of all, the delivery service is free. We will bring whatever it is you may have forgotten or run out of to your worksite or home. Just give us a call an d we will be on our way. For more information visit: https://helmpaint.com/
Color Match Technology
There are a lot of ways you can choose a paint color, even from home.
First, all of Benjamin Moore's paint colors are online and even have beautiful photos of examples. You can even upload your photo to the site to help you find the perfect paint color. Click HERE to check them all out.
Benjamin Moore also offers a professional-grade device and integrated app that can help you identify the perfect paint color match. Benjamin Moore's free paint color app lets you save colors, share images with clients and colleagues, and so much more. The App also features a Virtual Fan Deck, which lets you scroll through Benjamin Moore's color selections.  If you want to take a picture of a room and then so-to-speak try on different colors, the Benjamin Moore's color matching app has you covered with its Photo Visualizer function. The App's Video Visualizer let's you step into augmented reality where you can apply Benjamin Moore color to surfaces in real-time!
Get the free App HERE. 
So, as you take a look around your home while you are stuck at home, consider starting a project that you can finish. Helm Paint & Decorating is ready to help you complete your project. Give us a call at the location nearest you and Let's paint this week.
Helm Paint & Decorating, locally owned and operated, has been in business since 1970 and is an independent dealer of Benjamin Moore Paints and Finishes. Our trained specialists are available to assist you in selecting paint and supplies for your business. We also offer FREE 2 hour Pro Delivery Service. 
We have 6 locations across the Metro New Orleans area, for your convenience, to serve you.