Living Room Color Ideas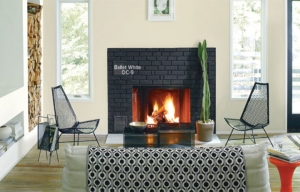 For some, the living room is the most important room in their home. It is the room where everybody comes together to talk, maybe watch TV or play some board games. Since many spend the majority of their time in the living room, it is important that the room is comfortable and appealing. Here are some tips on how you can spruce up your living room with a fresh coat of paint:
Great Living Room Colors By Benjamin Moore
Neutral colors seem to work very well in living rooms. These hues have a calming effect and they leave you a lot of options when it comes to decorating. If you decide to paint your living room in a neutral color such as White Dove, Ballet White, or Wish, you can experiment with colorful furniture, throw pillows or colorful art. Picking the best neutral paint color is a matter of style. Warm shades tend to be inviting and cozy while hues with cool undertones have a chic, modern vibe.
If you are a fan of more vivid colors, check out Benjamin Moore's Black Raspberry, Hibiscus, or Caliente. These colors will make a statement. If you are not certain about painting an entire room, consider just painting an accent wall in those colors. Neutral carpets or furniture will pop out in rooms that have been painted in very vibrant and dramatic colors. When choosing the perfect color for your living room, take a look at how much light your room gets.
The more sun light a room gets, the better it can handle saturated colors. Pale shades tend to get washed out in a very bright room. Matte finishes will help ease the reflection in rooms that get a lot of light.
For more information visit: https://www.benjaminmoore.com/en-us/project-ideas-inspiration/interiors/living-room-ideas-inspiration
Do you need help finding the perfect color for your living room? Ask our experts! Helm Paint & Decorating, locally owned and operated, has been in business since 1970 and is an independent dealer of Benjamin Moore Paints and Finishes. Our trained specialists are available to assist you in selecting paint and supplies for your business. We also offer FREE 2 hour Pro Delivery Service.
We have 6 locations across the Metro New Orleans area, for your convenience, to serve you. We are open for curbside pickup and we will deliver to your worksite!