We Are Here For You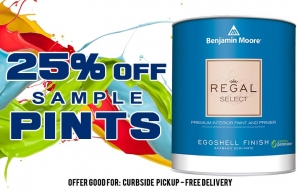 Helm Paint & Decorating is open for business! We are here for you. While our showrooms are closed to the public to protect our community and our employees during the COVID-19 outbreak, we are offering free delivery and curbside pickup. Furthermore, to get you started on your paint projects, we are giving you 25% off all sample pints.
Need Gloves & Disinfectant?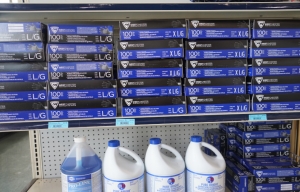 Did you know that we also have gloves, disinfectants and bleach? If you are planning to thoroughly clean your home or business to protect your family and employees, order gloves and disinfectants from us. We will deliver the products to you for free, or simply come by and pick them up curbside at one of our stores.
Find Your Perfect Color
Since you are probably at home right now and possibly are getting tired of staring at the same old walls, why not start searching for the perfect color?  No matter where you think you saw your perfect hue: a lily in your neighbor's yard or the blue ocean in a picture from your last trip to the Caribbean, Benjamin Moore has created an App that will help you get that perfect match.
Benjamin Moore offers a professional-grade device and integrated app that can help you identify the perfect paint color match. Benjamin Moore's free paint color app lets you save colors, share images with clients and colleagues, and so much more. The App also features a Virtual Fan Deck, which lets you scroll through Benjamin Moore's color selections.  If you want to take a picture of a room and then so-to-speak try on different colors, the Benjamin Moore's color matching app has you covered with its Photo Visualizer function. The App's Video Visualizer let's you step into augmented reality where you can apply Benjamin Moore color to surfaces in real-time!
Get the free App HERE. 
If you want to get started on your next project Helm Paint & Decorating is here for you and ready to help you complete your project. Give us a call at the location nearest you and Let's paint this week.
Helm Paint & Decorating, locally owned and operated, has been in business since 1970 and is an independent dealer of Benjamin Moore Paints and Finishes. Our trained specialists are available to assist you in selecting paint and supplies for your business. We also offer FREE 2 hour Pro Delivery Service. 
We have 6 locations across the Metro New Orleans area, for your convenience, to serve you.