How To Paint Stairs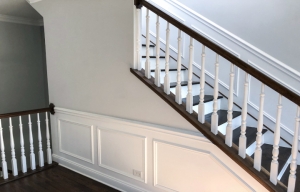 Wooden staircases can be very beautiful. However, if you have not painted them in a while, they can look dingy and scratched up depending on how much foot traffic they experience. Painting and decorating your stairs is not very difficult and now you may have the time to do it. Here are a few tips that will help you get your staircase back to looking beautiful.
What To Do Before You Paint Your Stairs
To make sure you get the most out or your paint job fill in any dents and repair loose of broken parts. You can paint bare wood or painted wood. However, if your stairs happen to be very old and are covered in a lot of layers of old paint, you may want to strip off the old paint first. After your repair work is done, sand the surface. When you are finished sanding your stairs, make sure to get all the dust off. Painting over dust will ruin your paint job. When using wood paint, those kind of paints designed for floors work better because they are more durable. Benjamin Moore offers a wide variety of wood and floor paints.
A small roller will work best for a smooth finish, but you will also need a brush to get into the corners. When scheduling your paint project, pick a day and time when almost everybody is out of the house since your stairs will need some time to dry. Maybe send them on a long bike ride. Also, start at the top of the stairs and work your way down, that way you won't get stuck upstairs.
When it comes to picking the colors for your stairs, you have a wide variety of options. You could paint the trim and stairs with a color that is similar to your walls. This will tie your stairway together with the rest of the hallway. If you want to make a statement choose a bold color for your stairs. A bright yellow, or red, or any color that contrasts your existing hallway color will add impact to your hallway. Another way to spruce up your staircase is picking two different tones for your project. Paint the step one color and stair risers in another tone. This will add drama and depth to your stairs.
If you are not sure how to paint your stairs, ask our design experts!
Helm Paint & Decorating is offering free delivery and curbside pickup. We are locally owned and operated and have been in business since 1970. Helm Paint is an independent dealer of Benjamin Moore Paints and Finishes. Our trained specialists are available to assist you in selecting paint and supplies for your business. We also offer FREE 2 hour Pro Delivery Service. 
We have 6 locations across the Metro New Orleans area, for your convenience, to serve you.