What Kind Of Brush Do I Need?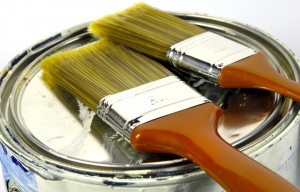 Once you decided on a color for your paint project, it is time to get all the necessary supplies including brushes. If you go to your local paint supply store, you will find shelves full of different kind of brushes. There are different sizes, shapes, angles, textures and of course prices. It can be really hard to determine which brush is best for your paint project. Here is a quick guide to help you select the right brush for your project.
Brush Types
The type of paint you are using will determine what material your brush should be made of.  There are two categories of paintbrush: those made of natural-hair bristles and those made with synthetic materials (nylon or polyester).  For alkyd or oil-based paints and coatings, you can use either natural bristle brushes or synthetic bristle brushes. Experts say, high-quality natural bristle brushes work best when applying enamels or any topcoat. Use only brushes with synthetic bristles when painting with any type of latex coating. When properly cleaned and stored, they will continue to apply paint smoothly and uniformly for years to come.
Brush Sizes
The size and shape of the brush you need will depend on the  size of the surface you are planning to paint. To do most jobs properly, take the time to match the brush to the job. Use large brushes to cover large surfaces and small brushes to cover small areas. A wall brush will be a thicker flat brush that will hold a lot of paint. You will use it for painting large surfaces. An angled sash brush will have bristles that are cut at an angle. You will use this brush for painting trim and around windows. A thin angled sash brush has a thinner profile and will be ideal more delicate work.
If you are not sure which brush to get, come on over to Helm Paint & Decorating and ask the experts!
Helm Paint & Decorating, locally owned and operated, has been in business since 1970 and is an independent dealer of Benjamin Moore Paints and Finishes. Our trained specialists are available to assist you in selecting paint and supplies for your business.
We have 6 locations across the Metro New Orleans area, for your convenience, to serve you.