Splish, Splash I Was Painting A Bath!
Bathrooms are one of the smallest rooms in a home, but they are also one of the most important. Whether they are a half bath or a full bath with a shower and/or a tub, this room is always fighting moisture. In general, bathrooms take a lot of abuse, thanks to the steam and humidity from the hot bath water and steamy showers. This means that your paint selection must be up to the humidity daily challenge. But, before you start painting a bath, make sure that your walls are adequately prepped.
Check out some of our prep tips below:

Ventilation
Make sure your bathroom has proper ventilation. If you have too much humidity, it can damage you paint. Consider opening a window or using a fan to help dry the room for at least an hour after every shower of bath.

Wash The Walls
New paint needs a clean and dry surface to adhere to and mildew can prevent the paint from properly sticking. Remove mildew and dust with a mild soap and water. Allow the walls to dry before painting them.

Use Painter's Tape
Because bathrooms are small with lots of nooks and crannies, it can be difficult to avoid painting the areas that are not suppose to be painted. Use a painter's tape like a blue painter's tape or FrogTape.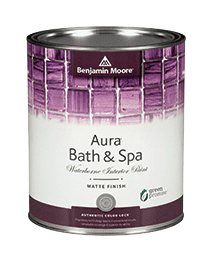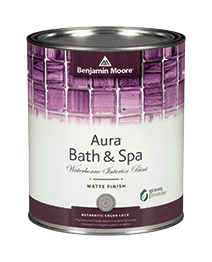 The Aura Bath & Spa Paint is ideal for high-humidity environments such as bathrooms and spas. It provides extreme hide and coverage with fewer coats, and it is a paint and primer together. Plus, it is mildew resistant for a fresh look that lasts.
This Benjamin Moore paint has the proprietary Color Lock technology for richer colors that stay true over time. But, what makes it the perfect product for a bathroom is that it can stand up to repeated washings and splashes with no color rub-off and it has Zero VOC and low odor. It can be cleaned with soap and water.
 All of the Benjamin Moore Aura paints are available in thousands of colors.
#ThePaintExperts
Your home is an investment that you take pride in. When it's time to repaint your bathroom, don't choose just any paint. Come to Helm Paint, we have the knowledge and expertise to help you choose the best painting products and supplies for your project. Whether you need to paint one bathroom or a whole house, you will receive top quality Benjamin Moore products and customer service you expect from Helm Paint. So, stop on by one of our locations today!
You're in good hands with us at the Helm Paint… we'll steer you right!