Get Your Paint Online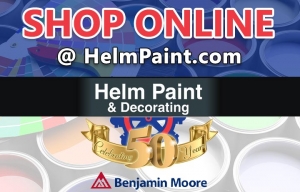 Since we will be stuck at home for at least two more weeks, why not use the time and paint another room. Who knows when you will have that much time again with everybody home. Painting is a great exercise the whole family can do together. It will make you work together and give you a feeling of accomplishment once you are done.  Now it is easier than ever to get the paint you love, just order online.
Online Ordering Made Easy
Online you will find a wide variety of paints including, but not limited to interior, exterior, trim and ceiling paints. You will also find a variety of different grade paints such as: Super Premium, Premium, Aura, Regal Select, Scuff-X and Coronado. And that's not all! We also offer supplies online. No matter if you need tape, rags, brushes, and even fillers and primers, we have it all online! Our online catalog is very organized and you will be able to find what you need with a click of a button.
Color Match Technology
Finding a color you love is usually easy. You can find it in paintings, your photos or simply when being outside in nature. However, finding that exact color in a paint store can be rather tricky. Now, there are a lot of ways you can match your color perfectly.
Benjamin Moore a offers a professional-grade device and integrated app that can help you identify the perfect paint color match. Benjamin Moore's free paint color app lets you save colors, share images with clients and colleagues, and so much more. The App also features a Virtual Fan Deck, which lets you scroll through Benjamin Moore's color selections.  If you want to take a picture of a room and then so-to-speak try on different colors, the Benjamin Moore's color matching app has you covered with its Photo Visualizer function. The App's Video Visualizer let's you step into augmented reality where you can apply Benjamin Moore color to surfaces in real-time!
Get the free App HERE. 
Furthermore, Benjamin Moore's paint colors are online. You can even upload your photo to the site to help you find the perfect paint color. Click HERE to check them all out.
So, as you take a look around your home while you are stuck at home, consider starting a project that you can finish. Helm Paint & Decorating is ready to help you complete your project. Order your paint online from the location location nearest to you!