Bathroom Makeover Projects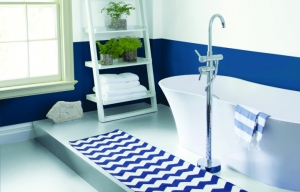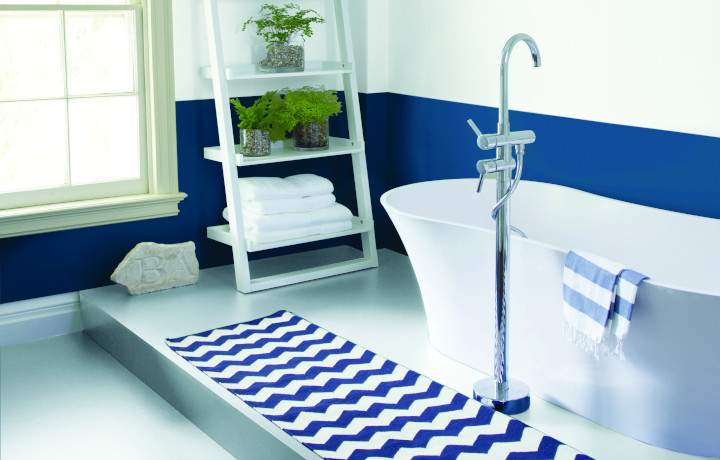 Right now you are probably bored at home. Why not give your bathroom a new look? Transforming your bathroom is easy, you just need to find the right powerful color combination.
Bathroom Colors
First ask yourself, are you trying to turn your bathroom into a space to relax, or are you looking to impress your guests with a colorful powder room? Your old bathroom probably still has an outdated shiny finish. When choosing your new color, consider getting a matte finish. Did you know that Benjamin Moore® Aura® Bath & Spa paint stands up to humidity and comes in any one of our 3,500+ colors?
Soothing colors will help you relax in your bathroom. Right now the top color choices for spa-like bathrooms that will be your sanctuary include neutrals such as  Chantilly Lace OC-65, Simply White OC-117, and Ballet White OC-9. Soft pinks and blush hues are also favorites when it comes to painting your bathroom. Consider using First Light 2102-70, the 2020 Color of the Year, Cream Puff 2174-70 and Foggy Morning 2106-70 . Those colors are popular alternatives to off-whites. If you would like to add a little more color to your bathroom but still want to keep a spa-like feel, use soft pastels like Palladian Blue HC-144 and Italian Ice Green 2035-70.
If you want your bathroom to look a little more exciting,  choose a bolder color. Saturated colors will make your small bathroom pop. The combination of deeper, rich colors and the right lighting conditions can bring a lot of ambiance to a small space. Bold colors such as Caleinte AF-290 or Shadow 2117-30 will add drama and dimension to your small bathroom. Maybe even paint your ceiling an unexpected color such as   Fruit Shake 2088-60 or Windmill Wings 2067-60. Mixing it up with painting towel shelving or bathroom accents with Black Ink 2127-20 or Deep Space 2125-20 with darker hues will make a striking contrast against white or off-white tile walls.
For more ideas visit: https://www.benjaminmoore.com/en-us/project-ideas-inspiration/interiors/bathroom-ideas-inspiration
Helm Paint & Decorating, locally owned and operated, has been in business since 1970 and is an independent dealer of Benjamin Moore Paints and Finishes. Our trained specialists are available to assist you in selecting paint and supplies for your business. We also offer FREE 2 hour Pro Delivery Service and curbside pickup.
We have 6 locations across the Metro New Orleans area, for your convenience, to serve you.