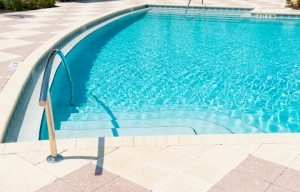 Summer is right around the corner and temperatures are on the rise. Right now is the perfect time to paint your swimming pool so it will be ready when it gets hot outside. Painting your pool can be a quick and affordable way to give it a new fresh look. Before you get started with your swimming pool project, there are a few things you need to keep in mind.
Swimming Pool Painting Tips
Benjamin Moore's Insl-x® epoxy pool paint is a waterborne acrylic emulsion pool paint that can be applied over most existing pool paints in good condition. This paint may also be used on bare concrete, marcite, gunite and other masonry surfaces in sound condition.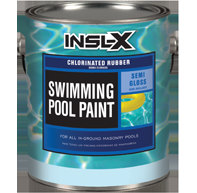 Before getting started, scrap away loose paint and fill in cracks or hollow spots with proper patching material. Rinse and scrub your pool thoroughly. Use a pressure washer if possible, however, only use the low pressure setting to avoid damaging you pool's surface.  Experts say the pool surface to be painted must be free from all oil, grease, wax, dust, dirt, mildew, suntan oils, and any other foreign contaminant. If you do not clean the surface properly the paint may not adhere. It is best to wash all surfaces with a citrus based degreaser/cleaner. Pay special attention around the water line (top 2 feet of pool) and any steps which are to be painted. These areas tend to accumulate the greatest amount of floating oils residue and other contaminants including suntan lotions and dirt. Rinse thoroughly after cleaning. All glossy surfaces should be sanded. Pools that have been painted with water thinned cement type paint must be sandblasted.
Now your pool is ready to be painted. Stir your paint properly before applying it.  You can apply Apply Benjamin Moore's Insl-x® epoxy pool paint by brush, roller or spray. If painting by roller, you the manufacturer says you must use a 3/8" nap or less lambskin roller. Do not use a long nap roller as it will cause chalking, blistering and put too much paint on the surface. Two thin coats are recommended rather than one heavy coat. Applying the paint too heavily will cause premature pool paint failure. Apply one coat of pool paint that has been thinned with one pint of clean water per gallon of paint and allow it to dry for 4-6 hours. Apply the second coat, unthinned, keeping the coat as close to the recommended spread rate as possible. Applying too thick a coat or excessive coats can result in paint blistering. Let the final coat to cure 5 days before filling pool with water. Make sure to  follow the instructions on the can.
For more information visit: https://www.benjaminmoore.com/en-us/interior-exterior-paints-stains/product-catalog/ipp/insl-x-pool-paints or https://helmpaint.com/wp-content/uploads/2020/05/CAD_WaterbornePoolPaint_Guide-1.pdf
If you need help finding the right pool paint, ask our experts. Helm Paint & Decorating, locally owned and operated, has been in business since 1970 and is an independent dealer of Benjamin Moore Paints and Finishes. Our trained specialists are available to assist you in selecting paint and supplies for your business. We also offer FREE 2 hour Pro Delivery Service. 
We have 6 locations across the Metro New Orleans area, for your convenience, to serve you.