Find Your Fall Colors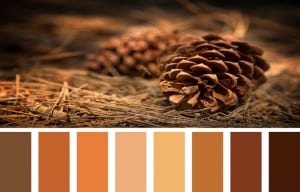 Fall is about to start and the temperatures will go down eventually even here in New Orleans. This is a good time to think about your next home improvement job. How about redecorating using fall colors and some autumn inspired accessories  to get your home ready for the upcoming Holidays including Halloween, Thanksgiving and even Christmas?
Colors
A fall themed home will always feel warm and cozy. If you decide to choose bolder colors including shades of crimson and rust, bright oranges inspired by pumpkins or crisp apple reds, your home will have a more dramatic look, but still feel very inviting. Keep in mind, fall delivers one of nature's grandest color displays.  That's why Benjamin Moore has created five expressive color palettes anchored by the season's go-to, inspired-by-nature colors. These shades include burnished gold, fiery copper or even a soft-as-silk pumpkin—all layered in combinations both modern and refreshingly imaginative. For more ideas visit: http://www2.benjaminmoore.com/en-us/for-your-home/colors-fit-for-fall
An Autumn Inspired Decor
If you are not planning to repaint your home, some fall themed accessories can still give your home that cozy appeal you are looking for. From festive fall inspired wreaths in your living or dining room, which you could switch out with Halloween wreaths, to bright oranges pumpkins on your porch, to brown or plaid pillows and blankets, there are so many things you could do to change the atmosphere of your home. Just changing the colors of your curtains, shades or drapes to get the fall feel and adding matching lamp shades could make a world of a difference. If you are not sure how to make your rooms flow ask the experts at Helm Decorating. For more information click here: https://helmpaint.com/services/.
Helm, locally owned and operated, has been in business since 1970 and is an independent dealer of Benjamin Moore Paints and Finishes. Our trained specialists are available to assist you in selecting paint and supplies for your home or business.
We have 6 locations across the Metro New Orleans area, for your convenience, to serve you.