Does Painting Your Home Help Sell It?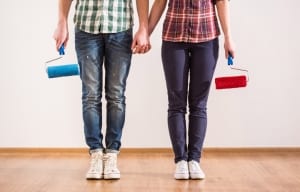 When there are so many houses on the market, it's best to do something to differentiate your home from the rest. Painting your home is a great way to neutralize your home in order to appeal to the largest number of buyers interested in your neighborhood, as well as to freshen up the look of your home. The right colors color the perception of potential buyers. When buyers see scuffed walls and worn paint, they do not see character, they see neglect. In their minds, they begin to wonder what else has been neglected. Buyers know they will have some remodeling to do when they purchase an older house but they expect newer homes to be turnkey.
Zillow's chief economist stated, that after analyzing the sale of 32,000 homes, they were able to determine the colors that helped outperform the sales of other houses listed. "Greige", a color combination of light grey and beige, which has grown in popularity, has brought an additional $3,496 to homes sold over similar properties painted in browns and tans (which have declined in popularity). A growing trend in kitchens and bathrooms is having white cabinets and countertops. Therefore, a light shade of blue or grey not only compliments the white, it can make these rooms feel larger while being neutral enough to attract buyers. In photos and videos, homes painted in updated neutrals feel fresh and inviting. They also appear to be larger. For example, a kitchen painted in a light blue can bring as much as an additional $1809 in sales price to the seller, and bathrooms painted in shades of light blue to periwinkle can bring as much as an additional $5,440 on average to the seller.
Let the design experts at Helm help you select the best paint colors to bring top dollar for your home. Helm, locally owned and operated, has been in business since 1970. Our color matching system also affords us the ability to blend the custom colors you might require. To learn more about our interior design services or make an appointment to get assistance with color selections, call us at (504) 390-3865 or email Jay Armstrong at jarmstrong@helmpaint.com. We have 6 locations across the Metro New Orleans area to serve you.