Do You Have Arched Windows In Your Home?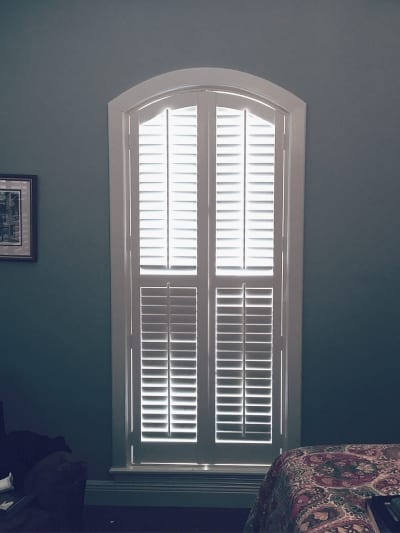 Arched windows are a beautiful addition that many homes throughout the New Orleans Metropolitan area have incorporated into their designs. These types of windows will let in a lot of light and brighten up a room; however, at times a homeowner may want to limit the light in the same room. Arched windows are a little bit more complicated when it comes to window treatments, but the Helm Paint designers can help you create the perfect window covering for your windows.
Shutters For Arched Windows
Curved windows or arched windows can present unique challenges. Helm Paint & Decorating can customize the perfect window treatment that is customized by shape, size and style. Custom arches are available in horizontals, shutters, woven woods, verticals, and cellular shades. Our Designers will help you select the right window treatment for your home. We will present color and style options, measure and install your custom window treatments. Did you know that we also can provide a free, no-obligation estimate?
Window Treatment Designs
At Helm Paint & Decorating, you can find a wide range of curtains and other window treatment options that include choices in light control, unlimited styles and color combinations, as well as handcrafted curtains and drapes just for you. We also have horizontal or vertical blinds in faux and real wood. Are you maybe thinking about getting shades for better light control? A shade helps to control the amount of light in a room. At Helm Decorating, you can find cellular, layered or pleated shades among others. We also have a wide variety of shutters. You get to choose between wood or composite shutters. Helm Paint & Decorating offers in-home consultation for all your window treatments needs. A certified window covering expert will guide you and help you select the right type of window treatment, show you colors and samples to make the right style statement, take accurate measurement, give you a FREE, no-obligation estimate and provide professional installation. For a free consultation visit: https://helmdecorating.com/.
Helm Paint & Decorating, locally owned and operated, has been in business since 1970 and is an independent dealer of Benjamin Moore Paints and Finishes. Our trained specialists are available to assist you in selecting paint and supplies for your business. We also offer interior design service along with window treatments and wall coverings. We have 6 locations across the Metro New Orleans area, for your convenience, to serve you.