Express Yourself With Aura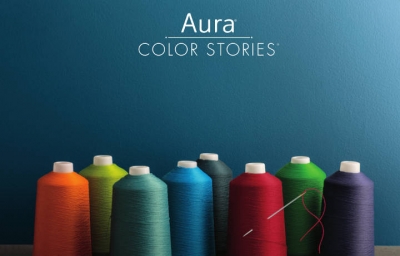 Flamenco, Nile Blue, and Rainstorm are just a few of the Benjamin Moore Paint Colors that you can find in the Aura Color Stories collection of 240 sophisticated paint colors. Aura interior paints respond to light with a custom designed multi-pigment formulation that is truly unique. The Color Stories collection offers a wide variety of hues from soft neutrals to bold jewel tones. Each color has subtle undertones and color characteristics that will bring an entire room together with the perfect interior design element – paint.
Color Lock® Technology
The Benjamin Moore Color Stories collection is backed by the Color Lock Technology. This technology enables the paint to microscopically bond color pigments to dry paint film which means color does not fade even after repeated washings. Aura offers brilliant everlasting color, thick coverage for a smooth finish, ability to hide and cover dark colors and imperfections, and zero VOC with low odor. "Much like a turbo-charger revs up the performance of a car, Color Lock technology improves the performance, durability, look, and feel of this incredible product." Aura dries faster then many other acrylic paints and can even be re-coated in just one hour.
Gennex® Color Technology
Most paint colorants that are common to the industry require the addition of certain chemicals so that they can mix easily into any number of paints. Benjamin Moore decided to create their own colorants that are designed specifically for Benjamin Moore paint colors. In the design process, Benjamin Moore removed unnecessary chemicals creating a formula that is better, stronger and even simpler. Learn more HERE.
Helm Paint & Decorating, locally owned and operated, has been in business since 1970 and is an independent dealer of Benjamin Moore Paints and Finishes. Our trained specialists are available to assist you in selecting paint and supplies for your business. We also offer interior design service along with window treatments and wall coverings. We have 6 locations across the Metro New Orleans area, for your convenience, to serve you.