Have You Ever Wondered How To Remove Wallpaper?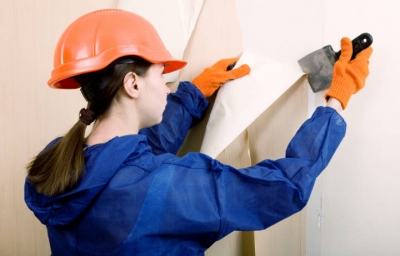 Wallpaper styles change drastically overtime, which means your walls maybe covered with a 1970s style wallpaper that just did not pass the test of time.  If you are getting ready to redecorate your home and need to remove wallpaper, it may seem like a huge task. But, if you follow the proper techniques, wallpaper is actually quite simple to remove from walls.
Prepare Your Space
Before removing any wallpaper from the walls, use these three simple tips to prepare your space:
Remove all furniture items from the room or place them in the center of the room and cover the with plastic.
Tape all baseboards with painter's tape and plastic drop cloths.
Cover outlets with painter's tape and turn off the electricity to the room. Use an extension cord from another room for light.
Tip: Some types of wallpaper can be removed quickly and others may take more time. Give yourself the time to properly complete the project.
Removing Your Wallpaper
The four types of wallpaper include: peel and stick wallpaper, traditional wallpaper, strippable wallpaper, and wallpaper with a removable top layer. Each type of wallpaper requires a different removal process. Peel and Stick wallpaper will peel off the wall in full sheets. Traditional wallpaper will be harder to remove and will come off in small sections. Strippable wallpaper will come of the wall in full sheets. Wallpaper with a removable top layer will remove easily, but will leave a paper backing on the wall.
Peel And Stick Wallpaper – To remove this type of wallpaper start at the top corner and pull the wallpaper down gently working parallel to the wall.
Traditional Wallpaper – This type of wallpaper is hard to remove, but with patience, it can be removed without damaging your walls. Use a wallpaper scoring tool to poke small holes in the wallpaper surface. The holes will allow water and wallpaper remover to penetrate the paper. Working in three foot sections, soak the wallpaper with hot water or wallpaper removal. Use a scraper or spackling knife to remove the wallpaper slowly. To make sure that all residue is gone, wipe the walls with warm water and dish detergent.
Strippable Wallpaper – This type of wallpaper is the easiest to remove. At the top of the wallpaper section, find a loose corner and peel the section back and pull the entire sheet straight down. Use water to help with removal and wipe down walls with warm water and dish detergent and a sponge.
Wallpaper with a Peelable Top Layer – Removal of this type of wallpaper can be a two step process. Strip off the top layer of the wallpaper using the same techniques as the traditional wallpaper types. Use a scraper or spackling knife to scape the paper away from the wall. Wipe down the walls with warm water and dish detergent to make sure both layers are removed.
Tip: Allow the walls to dry completely over the next two to three days. Consider using a fan to help with air circulation. You may be able to hang new wallpaper if the walls are not damaged. The walls may need to be floated if the wall has been damaged from the wallpaper.
Helm Paint & Decorating, locally owned and operated, has been in business since 1970 and is an independent dealer of Benjamin Moore Paints and Finishes. Our trained specialists are available to assist you in selecting paint and supplies for your business. We also offer interior design service along with window treatments and wall coverings. We have 6 locations across the Metro New Orleans area, for your convenience, to serve you.