Gloss, Satin or Matte?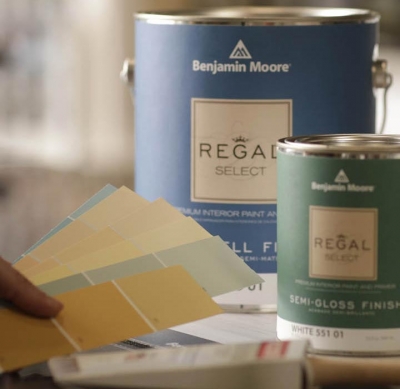 Gloss, Satin or Matte – Finding the right paint finish can be tricky, but there are a few guidelines you may want to consider before picking the finish for your next paint job. The purpose of the room you are painting can help you determine what kind of finish you may want so your paint looks great for a longer period of time.
Gloss Or Semi-Gloss
Gloss and semi-gloss finishes are very durable, according to experts. They also tend to resist moisture much better than other finishes. Those qualities make this kind of finish very suitable for kitchens or kids' rooms.  Gloss and semi-gloss finishes reflect a lot of light. However, this finish will show every little imperfection in your wall, which means you may have to spend some extra time on your prep-work before you can get started with your paint job.
Satin Or Eggshell
Satin or eggshell finishes are often described as silky or velvety. This finish is also very durable and can be used in high traffic areas such as family rooms or hall ways. Satin or eggshell finishes do not reflect as much light as gloss, but more light than matte finishes. This type of finish does not hide application flaws such as brush or roller strokes very well.
Matte
Matte finishes absorb light rather than reflect it. This means they will hide bumps and other little flaws in your walls rather well. These type of finishes are not very durable, but they make for rather easy touch up jobs. Experts recommend matte finishes for bedrooms and studies.
If you are not sure what finish might be the best for you, ask the experts at Helm Paint. The Paint and Color experts at Helm Paint can help you choose a quality Benjamin Moore paint product, rollers and brushes, and another other painting supply you may need to complete your project.
Helm Paint & Decorating, locally owned and operated, has been in business since 1970 and is an independent dealer of Benjamin Moore Paints and Finishes. Our trained specialists are available to assist you in selecting paint and supplies for your business. We also offer interior design service along with window treatments and wall coverings. We have locations across New Orleans, Metairie, Mandeville, Hammond and Gretna, for your convenience, to serve you.