On Saturday, February 15, 2020, at 5:00pm, the Helm Paint Krewe and Benjamin Moore will be in our very first Mardi Gras Parade – The Magical Krewe of Mad Hatters. We will have customized cups, rare Helm Paint beads, and some even more special items as some of our unique throws for the parade. The Helm Paint Krewe's Float will not be missed by parade goers. The float is decorated with wonderful colors and of course a huge Helm Paint & Decorating, Benjamin Moore Paint Can.  The Helm Paint Krewe is so excited to be part of this wonderful parade.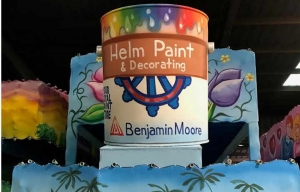 The Magical Krewe of Mad Hatters is a brand new Carnival Krewe this year in Metairie led by Joey Lacoste and his wife, Gwen. The 2020 theme is Alice and Wonderland.  The 26-float parade emphasizes music from well-known bands that will actually be riding on floats. The magical – rolling – entertainment will capture your imagination with special lighting and dazzling costumes.  Plus,  former New Orleans Quarterback, Bobby Hebert, will reign has the 2020 Mad Hatter alongside Amanda Shaw as Alice. The Helm Paint Krewe is so proud to be joining such a great group.
The traditional court will have a slight twist as it follows the Alice and Wonderland's theme. The Krewe's court consists of Dr. Joey and Gwen LaCoste as the Co-Captains, Mac & Gathy Cantrell as the Grand Marshall(s), Bobby Hebert as the Mad Hatter, Amanda Shaw as Alice, Scoot the Black Night, Mike Detillier as the King of Hearts, Joan Hebert as the White Queen and Linda Detillier as the Red Queen.
The parade will begin on Bonnabel at Feronia Street, head down Veterans Memorial Boulevard, loop down Severn Avenue back to Veterans, and then ends at Clearview Parkway at Clearview Center for Family Gras.
Family Gras is a wonderful Family oriented Mardi Gras tradition. It is a free event that takes place at the Clearview Center where families can enjoy Mardi Gras parades, authentic cuisine, local art, a kids' court and outdoor concerts. The Mardi Gras Parades during Family Gras include: Mad Hatters, Centurions, Atlas and Kings. On Saturday, February 15, starting at 10:40 AM the Mardi Gras 5k and Kids' Half Mile will take place. At noon, the Family Gras gates will open and the performances will begin from from 1-8:45pm and the Krewe of Centurions followed by the Magical Krewe of Mad Hatters will start between 7;15 and 8:00pm.
This parade will definitely be loved and enjoyed by both adults and kids. We hope you can come on out this Mardi Gras and see the Helm Paint Krewe.
Helm Paint & Decorating, locally owned and operated, has been in business since 1970 and is an independent dealer of Benjamin Moore Paints and Finishes. Our trained specialists are available to assist you in selecting paint and supplies for your business. We also offer FREE 2 hour Pro Delivery Service. Find out more HERE.
We have 6 locations across the Metro New Orleans area, for your convenience, to serve you.