Check Out Our Color Matching Technology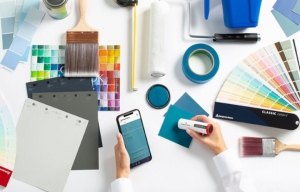 It can be very hard to describe a color. Sometimes we perceive colors differently. What some would describe as a burgundy, is a mauve to others.  This is why color matching is an art. This is also why it so difficult to describe a tone, or a certain hue to friends, colleagues and designers. Now, there is simple way to can share the exact color you like with everybody.
App & Integrated Reader
Benjamin Moore now offers a professional-grade device and integrated app that can help you identify the perfect paint color match. Now, you can simplify color selection and eliminate guesswork with the powerful combination of Benjamin Moore's new color-matching app and integrated ColorReader. Benjamin Moore's free paint color app lets you save colors, share images with clients and colleagues, and so much more.
The App also features a Virtual Fan Deck, which lets you scroll through Benjamin Moore's color selections.  If you want to take a picture of a room and then so-to-speak try on different colors, the Benjamin Moore's color matching app has you covered with its Photo Visualizer function. The App's Video Visualizer let's you step into augmented reality where you can apply Benjamin Moore color to surfaces in real-time!
Get the free App HERE. 
What The Color Reader Can Do For You
When you use the portable ColorReader and ColorReaderPro, you will be able to precisely match all of Benjamin Moore's over 3500 colors. The device also reads and matches colors from other popular brands.  Pair the reader with the App via Bluetooth and you don't need to chip off color chips from your wall for in-store color-matching; however, if it is available, we still recommend trying to bring in the real thing if it is available.
For more information visit: https://www.benjaminmoore.com/en-us/color-portfolio-paint-matching-app
Helm Paint & Decorating, locally owned and operated, has been in business since 1970 and is an independent dealer of Benjamin Moore Paints and Finishes. Our trained specialists are available to assist you in selecting paint and supplies for your business. We also offer FREE 2 hour Pro Delivery Service. 
We have 6 locations across the Metro New Orleans area, for your convenience, to serve you.