2020 Curtain Trends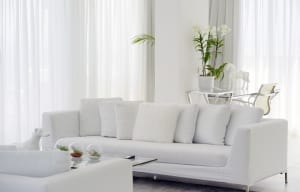 Do you want to give your living space a new look without having to redecorate completely? Just changing the curtains can have a huge impact on any room's design. If you are thinking about changing the curtains in your home, we took a closer look at the latest curtain trends for you:
White Curtain
One of the big curtain trends this year appear to be white curtains. If you have used bright colors to paint your room, white or neutral colored curtains will stand out. Additionally, these colors will go with almost any design you have already chosen for your room. White or neutral colored curtains bring an elegant style to your living or bedroom.
Floor-to-ceiling Curtain
Floor-to-ceiling curtains are back. These types of curtains will make a space feel larger by elongating the wall. Floor-to- ceiling curtains will give any room a very modern touch and these oversized curtains will make a statement. This curtain trend is also ideal for sliding doors.
Leaf Patterns
Consider maybe getting curtains with leaf patterns. These curtains will give any room a new fresh look, especially if you have white or light colored walls. Leaf colored curtains are perfect for the spring season. Bring the garden feel inside with with this curtain trend.
At Helm Paint, our certified window covering experts will guide you. For more information visit: https://helmpaint.com/services/window-coverings/
Do you need help finding the right curtain for your room? Ask our design experts. Helm Paint & Decorating, locally owned and operated, has been in business since 1970 and is an independent dealer of Benjamin Moore Paints and Finishes. Our trained specialists are available to assist you in selecting paint and supplies for your business. We also offer FREE 2 hour Pro Delivery Service. .
We have 6 locations across the Metro New Orleans area, for your convenience, to serve you.