Painting The Bathroom
The bathroom is normally one of the smaller rooms in the home, but it can still be overwhelming when making design decisions. If you are working with a strict budget or simply want to update your bathroom, keep it simple and focus on paint. A bathroom can be transformed into a spa-like oasis with the perfect combination of the right color and Benjamin Moore quality paint.
Make Sure That You Have The Right Supplies
Bathroom painting supplies are a little different from those you need for open spaces like a living room. The space is smaller and you have to work around the toilet, the sink, the shower, and outlets. The typical list of supplies that you will need to paint your bathroom include the following items: Drop Cloths and/or Plastic Sheeting, Paint Roller, Paint Brush, Paint Tape, Screwdrivers, Primer and Paint.
Selecting The Perfect Bathroom Paint Colors
There are no rules for selecting the perfect bathroom paint color. It is important to choose the paint color that you like best for your home. A good tip though is to select a paint color that has the same cool or warm undertone as adjoining rooms for a seamless visual flow. Keeping a similar undertone from room to room creates a soothing vibe which is very important for a bathroom. Remember to always test your color options in the bathroom to see if you like the color and how it is impacted by lighting in the room. Look at the color sample at various times of the day if the room has a window.
Popular Colors For A Bathroom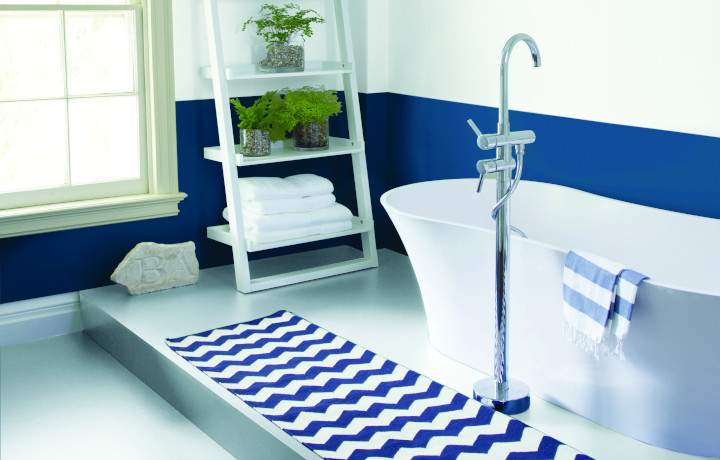 White Colors –
Pinks & Blues
Greens
Greens can be incredibly soothing in a bathroom, bringing the refreshing tones of outside, in. Use becoming hues in your bathroom like Van Alen Green HC-120.
Blues
Blues promote a sense of tranquility in any space. We love November Skies 2128-50, a soothing silvery blue that always looks fresh and crisp.
Helm Paint Design Team
If you are having trouble deciding on the perfect paint color, stop by one of the Helm Paint & Decorating locations. Our team members and designers can help you select the perfect paint color for your bathroom. We can also help you choose the best supplies for the job. Did you know that Benjamin Moore Aura Bath & Spa is created for humid environments like bathrooms? Let us help you find the perfect paint and color combination to update and personalize your bathroom.
Helm Paint & Decorating, locally owned and operated, has been in business since 1970 and is an independent dealer of Benjamin Moore Paints and Finishes. Our trained specialists are available to assist you in selecting paint and supplies for your business. We also offer interior design service along with window treatments and wall coverings. We have locations across New Orleans, Metairie, Mandeville, Hammond and Gretna, for your convenience, to serve you.