Have You Ever Thought About Creating A Mud Room?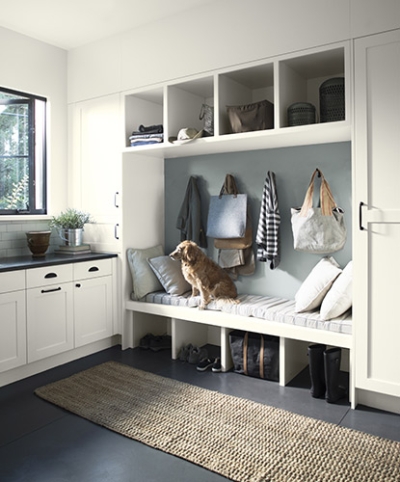 A mud room is an area designated in the home designed to confine the mess that you, your kids and your pets drag in from outdoors.  It is the perfect area to help everyone transition from the great outdoors into the comfort of the home without dragging the outside dirt inside. It does not need to be an actual room. It can be a hallway or entryway that is designed to house shoes, raincoats, backpacks and even umbrellas in a single space.
Hang It Up & Store It
The first thing most people do when they get home is drop coats, purses, backpacks and keys down somewhere, which means it can be on the kitchen counter, nearby sofa or even right on the floor. A simple hook can help keep everything in the best location where it can be found again easily. A row of simple hooks on a wall can be a great solution especially if there is room to also include some cubbies or baskets for shoes and other miscellaneous items.
Brighten Things Up
Just because it is called a mud room does not mean it is supposed to be dark and dreary. Consider painting the mud room in a light color like Benjamin Moore Cotton Balls OC-122 or Benjamin Moore Steam AF-15 from the New Color Trends 2022 collection. You can even have a little bit of fun with an accent color on a wall, bench or pillow accessory. Have you ever used Notable Dry Erase Paint? This unique paint allows you to transform the wall into a usable dry erase note pad which could be great for weekly schedules, grocery lists and reminders.
Need Help Victualizing?
Take a photo of your future mud room space. Use the photo and video visualizers on the free Benjamin Moore Color Portfolio® app to see how color can transform your mudroom into a colorful, welcoming space.
Helm Paint & Decorating, locally owned and operated, has been in business since 1970 and is an independent dealer of Benjamin Moore Paints and Finishes. Our trained specialists are available to assist you in selecting paint and supplies for your business. We also offer interior design service along with window treatments and wall coverings. We have locations across New Orleans, Metairie, Mandeville, Hammond and Gretna, for your convenience, to serve you.