What Really Makes One Paint Better Than Another?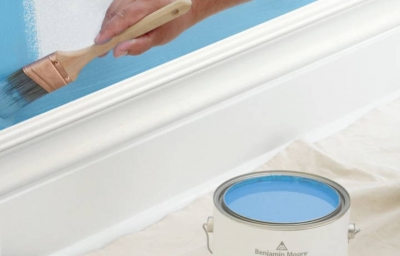 Binders, known as resins, form a matrix to confine pigments. Pigments give color and opaqueness to paint. Additives are used to change the properties of the paint in order to make enhancements.
The best quality paint contains the best binders, which affects everything from adhesion to stain and crack resistance. Paint quality is dependent upon the type and amount of binders employed. Quality paint also has more pigments and are enhanced with more additives. Prime pigments are excellent hiding pigments used to block the unfinished surface from showing through the finished results. The most commonly used prime pigment is titanium dioxide, also known as Titanium White. Additives are used to make paint more weather resistant, more resilient to mold/mildew, and accelerate drying time, just to name a few examples. These enhancements are desirable properties in the marketplace for the best paint.
Helm Paint – Quality Paint
Helm Paint & Decorating represents Benjamin Moore Paints, which boasts the most comprehensive and proven product lines in the industry for high-performance and outstanding results. "Our highly trained specialists can assist you in obtaining the best paint for your specific project(s). " Benjamin Moore has published a comprehensive guide to their coatings with product listings and comparison charts to discern the best product to suit your needs. They distinguish between interior and exterior paints, and give the details of each coating and it's best use. You can find the chart  – HERE.
Helm Paint & Decorating, locally owned and operated, has been in business since 1970 and is an independent dealer of Benjamin Moore Paints and Finishes. Our trained specialists are available to assist you in selecting paint and supplies for your business. We also offer interior design service along with window treatments and wall coverings. We have locations across New Orleans, Metairie, Mandeville, Hammond and Gretna, for your convenience, to serve you.