Scuffs, Dings & Scratches – How You Can Protect Your Walls
You know how easy it is to get scuffs, dings and scratches on your freshly painted wall. The vacuum cleaner is undoubtedly responsible for some, that new piece of furniture you moved in can probably be blamed for some and if you have children, sometimes there is no way of telling how they manage to get to your walls. Now, there is a quick and easy fix that will protect your walls and woodwork. Ultra Spec Scuff-X Latex Paint is scuff resistant, durable and can be washed down much more easily, so you and your family can enjoy your home without worrying about the walls.
For more information take a look at the Youtube video or click here: https://www.benjaminmoore.com/en-us/ultra-spec-scuff-x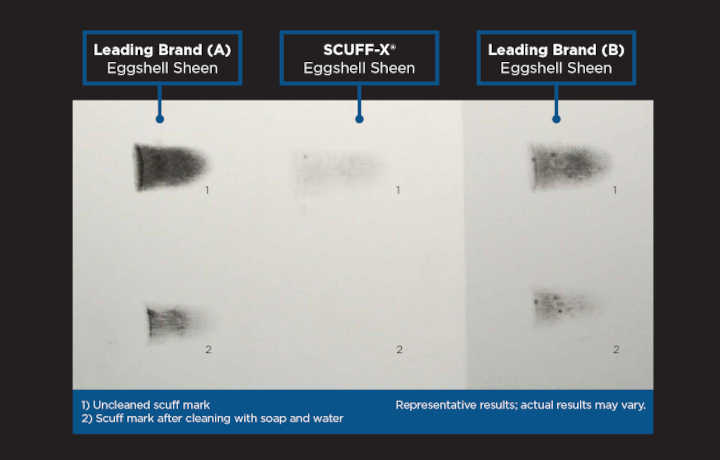 How It Works
Ultra Spec Scuff-X is formulated with scuff and stain-resistant technology, that provides the ultimate protection in scuff and stain-resistance, allowing for the ultimate washability for long-term durability. The line is available in 3 finishes: Matte, Eggshell, and Satin; and is available in a wide range of color choices numbering in the thousands. This proprietary formula is designed to dry quickly, within 2 – 3 hours after the application of the first coat, for minimal down time on the job. Each gallon of paint covers approximately 350 – 400 square feet and has low VOCs. This product line qualifies for LEED v4 Credit and is CHPS Certified, which are green building practices. Benjamin Moore, the industry leader in cutting-edge coatings technology and development, is a member of the U.S. Green Building Council. This Council is "a nonprofit organization of building industry leaders working to make environmentally responsible, profitable, and healthy buildings."
Hotels, Schools, and Healthcare Facilities
In busy hotels, restaurants and hospitality venues where first impressions count, scuff-resistant SCUFF-X helps keep walls in pristine condition. Traffic is always an issue in the hospitality industry. From rooms service to luggage, the walls can definitely get a lot of scuffs.
Schools are always in a constant battle to keep the walls fresh from scuffs and dings. Kids are throwing their backpacks down, playing ball, and simply being kids. SCUFF-X allows high-traffic corridors, lecture halls, gymnasiums, locker rooms and dormitories to be painted quickly with minimal disruption to student learning and resists scuffs to keep walls looking freshly-painted.
For environments in which patient health is of primary concern, maintaining clean, unsoiled walls is key. SCUFF-X resists scuffing; its proprietary formula contains antimicrobial additives to inhibit the growth of mold and mildew on the surface of the paint film, making it an ideal choice for busy waiting areas, exam rooms and laboratories in hospitals, clinics, nursing homes and therapeutic facilities. Plus, SCUFF-X is eligible for LEED® v4 credit.
Helm Paint & Decorating, locally owned and operated, has been in business since 1970 and is an independent dealer of Benjamin Moore Paints and Finishes. Our trained specialists are available to assist you in selecting paint and supplies for your business. We also offer interior design service along with window treatments and wall coverings. We have locations across New Orleans, Metairie, Mandeville, Hammond and Gretna, for your convenience, to serve you.