Be Bold, Go Orange
Don't be afraid of orange. In Honor of Halloween, we want you to consider some design ideas for orange. Orange may not be your first choice when it comes to a paint color, but we invite you to try to paint out of this box and take a chance you might really like.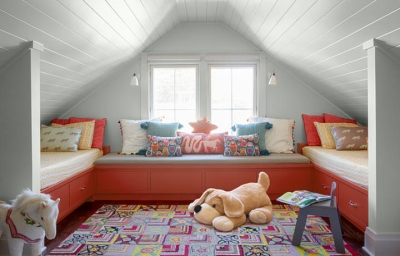 There are a variety of ways to incorporate orange into your home. Think about citrus hues and terracottas that are in the orange hue family. Orange is fun and energizing. It is a beautiful and contemporary color that can help you achieve your design goals across all styles and rooms. But, be careful when using it because depending upon the hue you choose, it will become a focal point. Therefore, consider combining your orange with neutral accents.
Paint Outside The Box With Orange
You may not want your entire home to be orange. Think about adding a touch of orange to a backsplash, single accent , cabinets, or even a single door. Accent your orange paint with additional orange items like an orange light fixture, orange vase accessory, or even orange barstools. It is important to pair your orange color with other colors that complement each other. Blue is the color on that is opposite on the color wheel than orange. A light or even a dark blue will complement your orange. If that is too bold, consider grays and whites with your orange accents.
Paint is one of the easiest and the most inexpensive ways to convert a dull boring room into a designer chic room. If you do not like it or it gets old, simply re-paint it in different colors.  Some good shades of orange for kitchens include 14 Carrots and New Dawn by Benjamin Moore, but try painting a few different shades of orange on your wall to find the best color for your space.
Helm Paint & Decorating, locally owned and operated, has been in business since 1970 and is an independent dealer of Benjamin Moore Paints and Finishes. Our trained specialists are available to assist you in selecting paint and supplies for your business. We also offer interior design service along with window treatments and wall coverings. We have locations across New Orleans, Metairie, Mandeville, Hammond and Gretna, for your convenience, to serve you.