Starting A Painting project? Make sure you have the right interior painting supplies before you begin.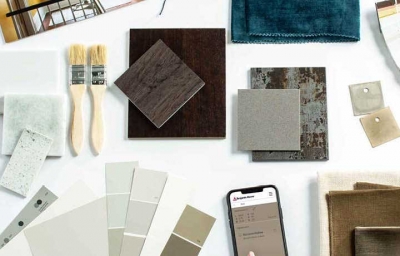 Using the right painting tools will ensure optimum results when it comes to painting any room in your home. After you have chosen the perfect Benjamin Moore paint color, it is important to get the right interior painting supplies to make sure that you can complete your project. Here you will find all of the information you need to make any painting project go more smoothly and get excellent results.
Paint Surface Preparation Tools
Surface preparation is crucial in painting interiors. It is essential to have a dry, clean, obstruction-free surface before you start to paint. Here are the tools you'll need:
Screwdriver: to remove all outlet and switch covers
Painter's tape: to place on trims, baseboards, uncovered outlets and switches, and any other surface that needs protection from paint stains
Paint scraper or flexible putty knife: to remove cracked or peeling paint and to apply caulking compound or putty to cracks, nail holes, and other surface depressions
Steel wool or a wire brush: to remove grime and old paints or stains from raw wood
Sandpaper: to smooth out imperfections, sags, drips, or runs on walls or other surfaces
Tack or damp cloth: to wipe clean surfaces to be painted after using steel wool or sandpaper
Painting Tools: Brush or Roller?
Once you've properly prepared the surface, you're ready to paint. Whether to use a paintbrush or a paint roller depends on the type of paint you are using and the size of the surface to be painted.
Paintbrushes
Although using a paintbrush takes considerably longer than a roller, it is ideal for cutting in, windows, baseboards, and intricate trim work.
Nylon/polyester blended brushes: the best choice for all latex (water-based) paints and coatings
Natural China bristle brushes: the best choice for oil-based paints, stains, epoxies, and varnishes because natural bristles will soak up the water and go limp when used to apply water-based paints
Paintbrush sizes: A 1- to 2-inch brush is ideal for small spaces, tight trim areas, touchups, and detail work. A 2.5- to 3-inch brush is perfect for trim and corner work, and the larger 4- to 5-inch brush is recommended for larger areas like walls or side paneling.
Paint Rollers
Paint rollers make painting go more quickly, but should be used only for painting walls, ceilings, and other large, flat surfaces. They can be used to apply both latex and oil-based paints and stains and do a fine job with both gloss and semi-gloss coatings.
Paint roller sizes: The standard roller length is 9 inches. For smaller areas, a 4-inch or 7-inch roller cover may be used. For larger areas like walls, ceilings, and floors, 14-inch and 18-inch rollers will get the job done more quickly.
Here is a comprehensive list of painting tools and supplies you'll may need to give your interior a gorgeous and lasting paint makeover:
Primer and paint
Paint brushes and paint rollers
Paint paddles
Roller trays
Mineral spirits/solvents (to clean up oil-based paint)
Drop cloths or tarps and cleaning cloths
Caulking gun, putty knife, and caulk/joint compound
Steel wool, wire brush
Tack cloth
Painter's tape
Screwdriver
Sandpaper
Helm Paint & Decorating, locally owned and operated, has been in business since 1970 and is an independent dealer of Benjamin Moore Paints and Finishes. Our trained specialists are available to assist you in selecting paint and supplies for your business. We also offer interior design service along with window treatments and wall coverings. We have locations across the Metro New Orleans area, for your convenience, to serve you.