Get A Home Office Upgrade
Your home office has become one of the most important rooms in the house. You have probably always used it to pay bills and check your email, but now it has become your office away from your office. It is important to maximize the space and create an environment that will help work efficiently and comfortably even if you are still at home.
The quickest and easiest way to improve your home office is to update the paint colors in the room. Home office paint colors can help to maximize productivity and ignite creativity. Whether you are looking for energy enhancing bright colors or relaxing light colors, Helm Paint and Benjamin Moore have a huge selection to choose from to improve your home office environment. But, if you want to utilize your office wall space, you may want to consider Notable® Dry Erase Paint. Notable® Dry Erase Paint will convert walls of any size into areas that are both useful and can even help with organization.
Notable® Dry Erase Paint For Your Home Office
"Notable supports the concept that great ideas can surface anywhere." The Dry erase boards are easy with the Notable Dry Erase Paint comprehensive kit. The kit has everything you need to create your own home office dry erase board. It comes with a 2-component paint system, a roller-cover, and detailed application instructions. It can be applied to almost surface including painted walls, wood, glass, metal and laminate. You can even create your own classic whiteboard look using Notable White. Once completed all you will need is your dry erase markers which we recommend the Expo Bold for the best results. Just remember, prepping is key to the perfect Dry Erase home office upgrade. Click HERE for more information.
Home Office Calming Paint Colors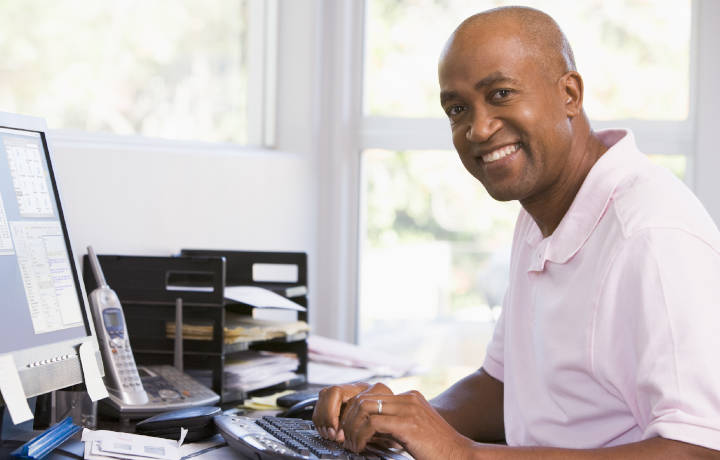 Unfortunately, there are a lot of diversions that can impact your ability to work in your home office. The kitchen, television, kids, laundry and so many more things can pull your attention away from the work task at hand. So, it is important to choose the right paint color to help minimize the distraction. The wrong paint color can actually be distracting. Our favorite calming paint colors are neutrals, blues and greens. Some research actually even suggests that the green color for wall paint can increase concentration. Check out Guilford Green HC-116 or High Park 467. Our favorite light blues for home offices include Blue Danube 2062-30 and Woodlawn Blue HC-147. Remember you can never go wrong with white and Simply White OC-117 is a great option.
Lighting & Paint Colors
There is nothing more depleting than a dark office space. Brighter more energizing colors can help with productivity. Whether you chose a paint color that is warm or cool, lighting plays a major role in how color can impact a room. Consider using task lighting and ambient lighting a stay away from florescent lights.  Check out Touch of Pink 2008-70, Banana Yellow 2022-40 and Surf Blue 2056-30 Benjamin Moore colors as some great paint color examples. Don't forget about sheen when selecting your paint type. A matte finish may be your best option because it reduced glare. If you want shine and contrast for your office furniture, consider ADVANCE, which provides a furniture-like finish in a high gloss.
Helm Paint & Decorating, locally owned and operated, has been in business since 1970 and is an independent dealer of Benjamin Moore Paints and Finishes. Our trained specialists are available to assist you in selecting paint and supplies for your business. We also offer FREE 2 hour Pro Delivery Service, Curbside Service, and our showrooms are open.

We have 6 locations across the Metro New Orleans area, for your convenience, to serve you.