Helm Paint Expands Into Texas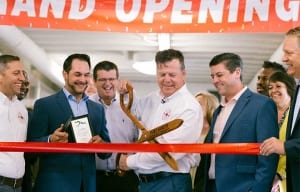 Helm Paint & Decorating opened its first paint store in 1970 on Earhart Blvd in New Orleans. Today, the store continues to deliver the quality paint and top services that our customers have come to enjoy and rely on. "My father believed in high service levels and in delivering the best value to his clients," says Joe Helm, owner of Helm Paint & Decorating. "If we can't create value for our customers, we do not deserve their support. This attitude is what sets us apart from other retailers.  We believe in customer care and quality products that deliver value," he added.  The total offering includes professional guidance on projects, superior color matching, fastest job delivery in the market, and products that fit most any budget.
Joe Helm started helping out in his father's store when he was just 13 years old. "I used to go to the store and help straighten and stock the shelves, but the most important thing I did was I got to meet and know our customers," he remembers. "Our clients are like part of our family. We our loyal to each other, helping complete each project to perfection," Helm said.
As time passed, Helm Paint & Decorating grew and added stores in Metairie, Kenner, Mandeville and Hammond. The company, which stayed true to its family values now operates 6 stores altogether in the greater New Orleans area and surrounding cities. Joe Helm's brother, Ronnie Helm, and brother-in-law, Keith Meyn, are an integral part of the success of the business and the Helm Paint team.
Now, Helm Paint & Decorating has expanded into the Dallas/Fort Worth area with Texas Paint. "We are bringing the same concept and family values my father began in Louisiana to Texas. In Dallas, we purchased several paint stores that were established in 1947, and we have already expanded to Grapevine and Fort Worth." All of the Texas Paint stores have been remodeled to have a modern interior design stocked with quality Benjamin Moore Paint and supplies. Plus, they now offer interior design services, wallpaper, and window treatment services. This is exactly what the Helm family has been doing for 50 years, running successful local paint family businesses that offer the BEST products, the BEST services and the BEST color matching.
The Helm Family is not only bringing family values and personal customer service to Texas, but also great pricing. A gallon of Benjamin Moore quality paint starts at $24.95.
"I love the people, I love the industry, I love the product and I love decorating. I cannot see myself doing anything else," Helm said.
Helm, locally owned and operated, has been in business since 1970 and is an independent dealer of Benjamin Moore Paints and Finishes. Our trained specialists are available to assist you in selecting paint and supplies for your business.
We have 6 locations across the Metro New Orleans area, for your convenience, to serve you.