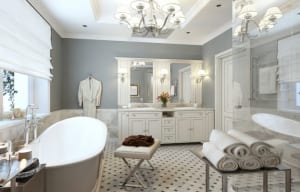 Could your bathroom use a fresh coat of paint? Since it is rather a humid room, there are certain things you need to consider before getting started with your project. Shiny finishes tend to be easier to keep clean and are more resistant to moisture, mold, and mildew than flat finishes, according to experts. As a matter of fact,  Consumer Reports recommends a satin or semi-gloss finish for bathrooms because those are more durable.
Before getting started make sure you wash your walls and don't forget to protect everything you don't want painted. Once you finished painting, wait until your paint is completely dry before taking a bath or jumping into the shower.  The report lists Benjamin Moore Aura Paint among the top paints that resist mildew. For more information visit: https://www.consumerreports.org/interior-paints/mildew-resistant-paint-for-your-bathroom/
The Aura Bath & Spa Paint is ideal for high-humidity environments such as bathrooms and spas. It provides extreme hide and coverage with fewer coats, and it is a paint and primer together. Plus, it is mildew resistant for a fresh look that lasts.
This Benjamin Moore paint has the proprietary Color Lock technology for richer colors that stay true over time. But, what makes it the perfect product for a bathroom is that it can stand up to repeated washings and splashes with no color rub-off and it has Zero VOC and low odor. It can be cleaned with soap and water.
 All of the Benjamin Moore Aura paints are available in thousands of colors.
Helm, locally owned and operated, has been in business since 1970 and is an independent dealer of Benjamin Moore Paints and Finishes. Our trained specialists are available to assist you in selecting paint and supplies for your business.
We have 6 locations across the Metro New Orleans area, for your convenience, to serve you.