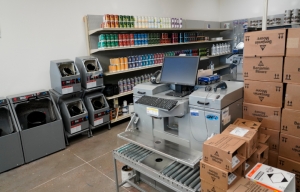 Hurricane Zeta brought widespread damage to the New Orleans Metro area. The storm ripped off roofs and knocked down power lines and trees. Hurricane Zeta made landfall has a strong category 2 Hurricane near Cocodrie with 110 mph winds. The eye of the storm then moved over Orleans Parish causing lots of damage.
At Helm Paint & Decorating, many of our customers have damage to the exterior of their homes and business.  Due to the high winds and flying debris, the exterior paint may have been damaged or needs to be matched due to a repair. Don't worry, Helm Paint & Decorating can match any paint.
Repairing Your Paint Job After A Storm
Survey your home closely to determine the damage to your home's exterior paint. You may only find minor damage including a couple of scratches and chips. If this is the case, you may not need to repaint your entire home or business. Before getting started with touch ups,  you should fill in possible cracks in your exterior walls. Wash the areas you want to repaint thoroughly to remove all dirt and debris. Now the trick will be to match your home's existing paint color. Paint fades over time, especially if you have exterior walls that are exposed to the sun.
To make sure your paint job looks flawless, you need to match the color. The Helm Paint Experts can match any color, with our color computer matching and trained mixers, you will always get the best results. Our experienced color matchers will take several computer readings and average them before using the data they have collected to get the very best results for you.
We Know Color
At Helm Paint & Decorating, color is very important to us. The right color can transform a room, and once you have found that perfect shade and finish, your vision will come to life. But, creating that perfect color requires a color match expert.  Whether you are choosing a new color from the Benjamin Moore paint palette or matching a color that you already have, our color experts will give you that perfect color match. You can bring in an old paint can or a piece of the painted siding, and we know that we will match the color. The Helm Paint team believes in providing top quality paint and excellent customer service, and color matching is part of expert service.
Helm Paint & Decorating, locally owned and operated, has been in business since 1970 and is an independent dealer of Benjamin Moore Paints and Finishes. Our trained specialists are available to assist you in selecting paint and supplies for your business. We also offer FREE 2 hour Pro Delivery Service. Find out more HERE.
We have 6 locations across the Metro New Orleans area, for your convenience, to serve you.