DANCING WITH THE STARS, THE GOOD SHEPHERD WAY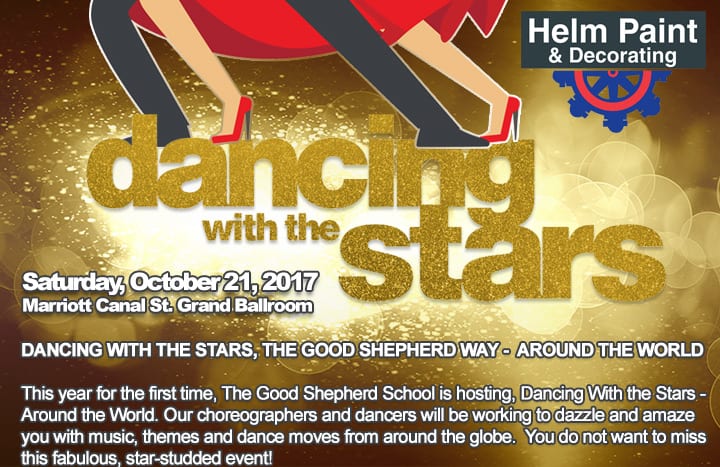 Saturday, October 21, 2017
One of New Orleans' premier events is returning to the Marriott on Canal with a fantastic twist that will leave you wanting to travel the world dancing! This year for the first time, The Good Shepherd School is hosting, Dancing With the Stars – Around the World. Our choreographers and dancers will be working to dazzle and amaze you with music, themes and dance moves from around the globe. You do not want to miss this fabulous, star-studded event benefiting The Good Shepherd School! Click HERE for more information. 
6:00 p.m. Cocktail Social and Dinner Buffet
8:00 p.m. Dancing With the Stars Competition Begins
Marriott Canal Street Grand Ballroom | 555 Canal Street, New Orleans
​Shelley Brown & Travers Mackel as Emcees and Special Performance by Komenka Ethnic Dance Ensemble
This year's dancers and their talented choreographers:
Deborah & John Blancher, choregraphed by Annie Cuccia
Meg Gatto & Roy Glapion, choreographed by Eleni Korominas
Amanda Shaw & Tom Gregory, choreographed by Brianna and Alex Nowlin
Hillary Gibbs Alread & Max Gruenig, choreographed by Kate Rohm
Chandra Chifici & Joe Helm, choreographed by Gina Iserman
Amy Winchester & Stanton McNeely, III, choreographed by Stephani Kammer
Laurie Pierce Martin & Wayne Pierce, choreographed by Janell Wattigny
Theresa Truxillo & Paul Sptizfaden, choreographed by Fran Moran
Christina Mahtook & Vance Vaucresson, choreographed by Laura Stein
Kevyn & Pat Winters, choreographed by Ashley Iserman and Amal Hamdan
DANCING WITH THE STARS, 2016
The 2016 DANCING WITH THE STARS, THE GOOD SHEPHERD WAY, was a huge success – it far exceeded our wildest imaginations. We raised over $360,000 for our students and it's all a result of the work and dedication of the couples and choreographers seen here. Thank you to the nearly 1,000 people in attendance and all the volunteers and Marriott staff who made the evening the amazing night that it was!
CONGRATULATIONS to this year's FAN FAVORITE, Sr. Tracey Dugas & Fr. Tim Hedrick (choreographer: Jennifer Collins) and the MIRROR BALL championship winners (a tie between) Nicole Todaro & Joseph Zolfo (choreographer: Gina Iserman) and Joan Gogreve & Johnny Fitzpatrick (choreographer: Sarah Stuckey).
​We are grateful to God for the grace bestowed on us at The Good Shepherd School, through this incredible event. It would not have been possible without the support, efforts and prayers of our event sponsors and benefactors, attendees, volunteers and participants. In the end, we know that our students are the winners!