Benjamin Moore Color Portfolio™ App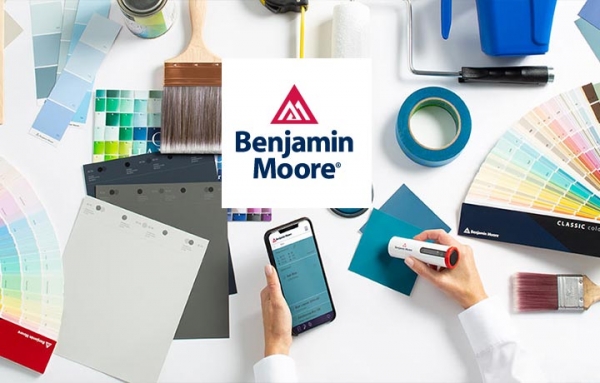 Have you found the perfect color but do not know how to turn it into the perfect paint color? Don't worry because we have the perfect solution – The Benjamin Moore Color Portfolio™ App & Color Reader.
If you are looking for a professional-grade device and integrated app to help you identify the perfect paint color match, look no further than the brand new color-matching app and integrated ColorReader by Benjamin Moore. This app eliminates the guesswork and helps to simplify your color selection. Plus, it is FREE!
The App
No matter where you are, you can use the new paint color app to capture the perfect color. Did you find the perfect green in the park or did you see the perfect pink from an Azalea Flower in a neighbor's yard? This app allows you to save colors, share images with clients and colleagues and more.
Virtual Fan Deck
The virtual fan deck allows users to easily scroll through Benjamin Moore's collection of trusted colors including Color Preview®, Benjamin Moore Classics®, Affinity®, Historical Collection, Off-Whites and the Designer Classics.
Photo Visualizer
The photo visualizer allows users to take a photo of a room and instantly "try on" colors by tapping a surface for instant masking. You can also use photos from the Benjamin Moore inspirational gallery.
Video Visualizer
This part of the app allows users to literally step into augmented reality and apply Benjamin Moore colors to surfaces instantly.
Helm Paint & Decorating
Don't worry about stopping by one of our store locations if your are busy because we offer FREE delivery. No matter if you are in New Orleans or Slidell, we will bring your paint and painting supplies directly to your home or business. Our stores are open and we even offer curbside delivery too.  While many of us are spending a lot more time at home this month, it doesn't mean you cannot get moving on some of your home projects. Just give us a call at any of our Helm Paint store locations and we will be glad to help you get started.
Download the Benjamin Moore Color Portfolio app
Use this free app to access Benjamin Moore fan decks, experiment with color using pictures from your phone, match paint color with the Benjamin Moore ColorReader device, and more!
You can download the app on: iPhone® IOS® v. 13 or higher, iPad® OS® or higher & Android™ 7.1 or higher
Helm Paint & Decorating, locally owned and operated, has been in business since 1970 and is an independent dealer of Benjamin Moore Paints and Finishes. Our trained specialists are available to assist you in selecting paint and supplies for your business. We also offer interior design service along with window treatments and wall coverings. We have 6 locations across the Metro New Orleans area, for your convenience, to serve you.