Did you know that Vinyl Siding can be painted?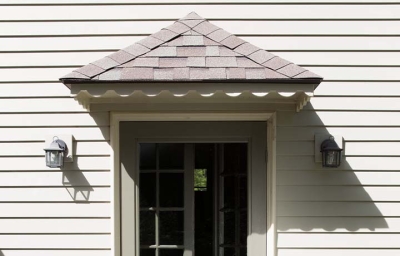 Many homeowners believe that vinyl siding needs to be replaced and cannot be painted.  Years ago, this was true, but advances in paint technology have changed the situation. The good news is that vinyl siding can be painted and is less expensive than replacing it. Helm Paint offers a wide variety of colors to select from including the Benjamin Moore Colors for Vinyl palette.
"Our carefully edited palette of 75 handpicked colors, Colors for Vinyl, makes it easier than ever to choose. The curated palette offers a wide range of tried and true hues, from Revere Pewter HC-172 to rich hues like New Hope Gray 213-50, to the classic Simply White OC-117 and more. These designer-essential paint colors are available in select Benjamin Moore exterior paint lines, giving you product choice too." ~ Benjamin Moore
Benefits of Painting Vinyl Siding
Cost Efficiency – Repainting your vinyl siding is less expensive than replacing vinyl siding.
Durability – Benjamin Moore premium paint helps to resist cracking, peeling and fading which means it lasts even longer.
Experts Tips – The Benjamin Moore 75 Colors for Vinyl palette makes the paint selection easier.
How To Paint Vinyl Siding
Follow these steps for the best results:
Step 1: Cleaning
Before painting, the surface must be cleaned and any mildew, chalk, or dirt removed to ensure maximum adhesion and to avoid staining. The siding can be cleaned either by hand scrubbing or power washing. A product such as Benjamin Moore Clean Multi-Purpose Cleaner (N318) is ideal for this cleaning process. Thoroughly rinse the surface with clean water after washing and follow the application and safety instructions on the product label. If you choose to power wash, use caution with the pressure settings so that you do not damage the siding or remove sound paint. Care should be taken not to allow water to seep under the siding around windows, doors, vents, soffits and any other openings. Hold the nozzle facing down to avoid forcing water under the siding panels. If the Vinyl siding was previously painted, power-wash loose material and feather sand the peeled edges very lightly before panting.
Step 2: Priming
In most cases a primer is not necessary. Only area of pitted or porous vinyl siding must be primed. In these cases we recommend Benjamin Moore Fresh Start® High Hiding All Purpose Primer (046) or Fresh Start® Multi-Purpose Latex Primer (N023).
Step 3: Selecting Paint
For coating vinyl siding or trim, our premium Regal® Select Exterior REVIVE™ for Vinyl Siding is the ideal choice.
This paint is formulated for optimal performance on vinyl siding and trim with the added benefit of Vinyl Lock technology for superior adhesion. It also fully covers the previous color or faded areas on weathered siding. Regal Select Exterior REVIVE provides excellent color retention, is resistant to mildew and can be applied in temperatures as low as 40 degrees Fahrenheit.
Step 4: Selecting Colors
To avoid warping in vinyl siding caused by paint colors that absorb heat, be sure to choose from our color palette that is safe for vinyl, offering hundreds of colors from darker shades to lighter hues. Regal Select Exterior REVIVE for Vinyl Siding offers a curated palette of 59 colors that have been selected by our color and design experts. From the palest pastels to the deepest earth tones, our color palette provides the color freedom you expect from Benjamin Moore.
Step 5: Maintenance
Offer your customer power washing each spring to maintain the appearance and extend the life of your paint job.
Note: While paint adhesion can be affected by plasticizers in vinyl siding, these compounds are removed naturally by time and weather.
Helm Paint & Decorating, locally owned and operated, has been in business since 1970 and is an independent dealer of Benjamin Moore Paints and Finishes. Our trained specialists are available to assist you in selecting paint and supplies for your business. We also offer interior design service along with window treatments and wall coverings. We have locations across New Orleans, Metairie, Mandeville, Hammond and Gretna, for your convenience, to serve you.