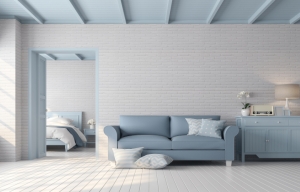 When painting a room, we usually stick with white when it comes to the ceiling. However, painting your ceiling in a different color,  other than white, can give your room a very sophisticated feel.
Lighter Colors
If you paint a small room a lighter paint color above eye level, you will make it appear bigger by visually raising the ceiling. Design experts suggest painting any seize room ceiling in a lighter variant of the wall color. This will not only  add depth to your space, but will also allow you to stick with your color theme.
If you are feeling adventurous, you may  want to consider a light contrasting color.  In doing so, you will draw the eye upwards while maintaining an overall open, airy look. Interesting colors such as Benjamin Moore Powder Pink 2009-70  will heighten your space, while also adding playful touch to an otherwise formal room.
Darker Colors
If lighter ceiling colors are not your thing, how about going with an more intimate dark color? A darker ceiling can be a great design feature and, much like an accent wall, will add a "wow factor" to your room.
Rich navy blue or a deep black blur the boundaries of a room, making it look endless yet intimate.  A ceiling painted  in Benjamin Moore Black Ink 2127-20 can help create an elegant enclave.
If you want to go with a darker color on your ceiling, consider a paint color that is two to three shades darker on your ceiling than your walls. Rooms with dark ceilings feel cozy and comfortable, making any room a welcoming respite.
No matter what ceiling color you choose, experts recommend using and ultra-flat finish to hide ceiling imperfections.
https://www.benjaminmoore.com/en-us/project-ideas-inspiration/interiors/ceiling-ideas-inspiration
If you need help finding the right ceiling color, talk to our experts. Helm Paint & Decorating, locally owned and operated, has been in business since 1970 and is an independent dealer of Benjamin Moore Paints and Finishes. Our trained specialists are available to assist you in selecting paint and supplies for your business. We also offer FREE 2 hour Pro Delivery Service. 
We have 6 locations across the Metro New Orleans area, for your convenience, to serve you.