A laundry room does not have to be a neglected room when it comes to design and color. Whether you are washing, folding or even ironing, the laundry room is a popular room in the home, at least for chores, and should have a little character. So, get inspired with upbeat paint color schemes to give the room energy. Check out our laundry room paint ideas for a little inspiration.
Expert Tips: Laundry Room Paint Ideas
Fresh & Clean
Blues and grays in a laundry room are always a safe and versatile choice. Solitude AF-545—a rich blue-gray from the Affinity® Color Collection—adds significant depth to a narrow laundry room. If you're looking for help on paint color pairings, Affinity® offers 144 paint colors specifically formulated to help homeowners mix and match color effortlessly.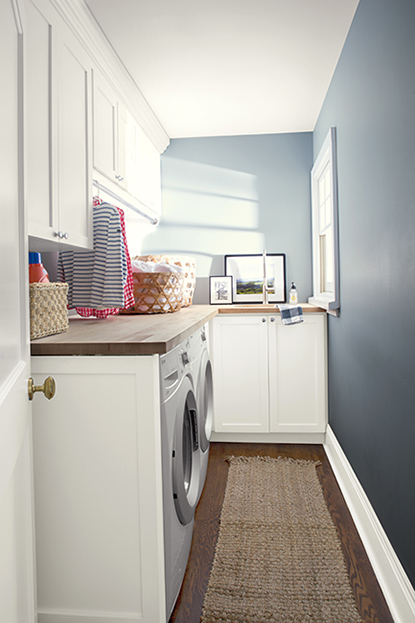 Go Bold
Many laundry rooms are smaller in square footage, but this does not mean you have to paint the room white. Have fun with the room and add a little bit of unexpected pops of color. Eye-catching Blue Danube 2062-30 adds depth to a laundry room and can be a great accent wall.  Other effervescent hues we love include periwinkle Whispering Wind 1416, jade Fiddlehead Green 2041-20, and cheery Blue Jean 2062-50.
Stripes
Don't be afraid to add stripes to a Laundry Room wall. Gray and white paint colors pair well with white- and graphite-colored appliances, so they are popular in the laundry room. If you have an artist in the family, try DIY painted elements: think geometric shapes, stencils and of course, painter's tape for creating straight edges and patterns.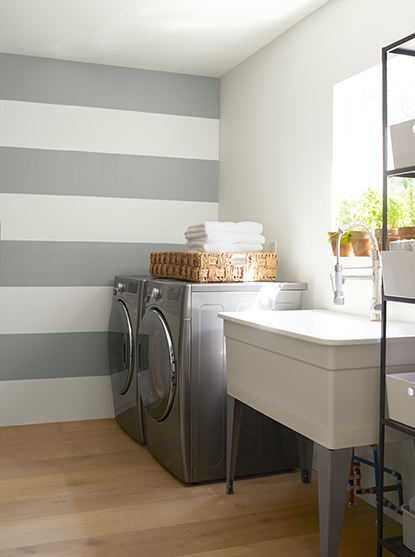 Helm Paint & Decorating, locally owned and operated, has been in business since 1970 and is an independent dealer of Benjamin Moore Paints and Finishes. Our trained specialists are available to assist you in selecting paint and supplies for your business. We also offer interior design service along with window treatments and wall coverings. We have locations across New Orleans, Metairie, Mandeville, Hammond and Gretna, for your convenience, to serve you.