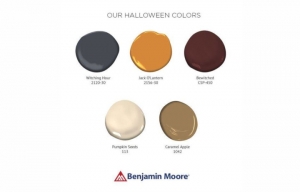 Halloween is almost here which means right now is the time to get ready for the spooky time of year. If you want to go all out for Halloween this year, painting your home in the appropriate colors might be the way to go. When it comes to Halloween, there are plenty of color choices you can still enjoy once the spooktacular season is over. You don't just have to stick to pumpkin orange. Benjamin Moore has a wide variety of colors and your Helm Paint experts can match any color you can think off. Below are a few Halloween color ideas that may inspire you:
Halloween Colors For You
Benjamin Moore colors are a special treat any time of the year. For Halloween, we enjoyed these haunting colors.
Witching Hour is a rather dark color which is perfect for an accent wall if you are not brave enough to paint an entire room that dark. It is also a perfect color for small spaces giving them an intimate and cozy feel. If you are totally into Halloween all year round, Jack O'Lantern is the color for you. This vibrant, saturated pumpkin color adds life to any space. Bewitched is a darker shade of red. This color will work well in intimate spaces such as bedrooms. If all the colors we have mentioned so far are a little too bold for you, you might enjoy Pumpkin Seeds. This color mirrors the shade of seeds freshly scooped from a pumpkin, this soft, pale yellow anchors a warm and inviting color palette. Caramel Apple is a lighter brown you will enjoy long after Halloween is over. This color will enhance the mood and atmosphere of any room.
If you are not sure which Halloween color will be right for your room, talk to the paint experts at Helm Paint. Helm Paint & Decorating, locally owned and operated, has been in business since 1970 and is an independent dealer of Benjamin Moore Paints and Finishes. Our trained specialists are available to assist you in selecting paint and supplies for your business. We also offer FREE 2 hour Pro Delivery Service. Find out more HERE.
We have 6 locations across the Metro New Orleans area, for your convenience, to serve you.